Cerebrology and the new science of non-verbally enhancing our brain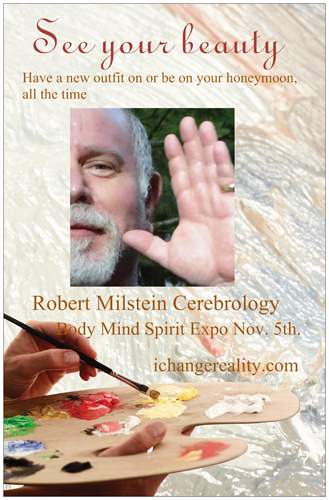 We will be doing a workshop on Nov. 5th. The workshop will give everyone that participates the ability to have the experience of seeing their beauty.
This way of experiencing ourselves is lasting. Just as we would learn to float and have a different feeling about ourselves in the water that was lasting, we reproduce a natural process of growth and it is lasting as well.
The way we see ourselves as more beautiful when we have a new outfit on or are on our honeymoon… is because we are adding a good feeling to the picture we see and we may not be aware of what we normally add.
Some of us add a bad feeling when we are in public and a new outfit allows us to be distracted enough to feel the way we naturally should. If we ever have felt we were handsome or beautiful, we should feel that all the time. How we experience ourselves changes everything we experience.
The group exercise will last 40 min. It may only be possible to have the first few rows do the exercise standing so please come early.