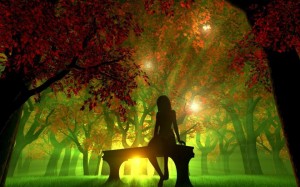 The secret is out…how we change reality in relationships.
Relationships that people do not care about seem to have fewer problems than relationships with people that are very deeply in love. Today we are going to change reality. We are going to understand why people in love have a harder time in relationships and then understand how to fix the problem so that love will give us what we want. Help me change reality, so that having all the passion, romance and love we desire, is simply not a problem for us anymore.
Have you ever noticed there are very few "cures" for things? When was the last time you heard about a cure for anything? Today we are going to cure the problems love creates.
Some people only have problems when they are in love. They feel fear and they get angry or run. Many people make money because of this. From fortunetellers to pharmaceutical companies, your problems are their income. If the people profiting from people having problems were helpful, the divorce rate would not be increasing.
The reason people are having problems when they are in love is simple. The problem is because of the way our brain works. Let us look at how our brain works to create our problems in love and then we can discuss the cure afterward.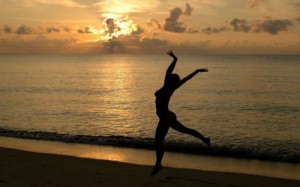 When people ask me what makes a relationship work, I always tell them "the secret" is the magic we have when we enjoy ourselves and do not have fear.
When we are in love, we can have a feeling much like floating in a pool, where we enjoy the experience of the relationship and as the water would lift us, the relationship supports us and we are lifted to a new experience that adds to our life. When we are in love we can also have a feeling of fear, the fear creates a struggle for us and we feel the relationship makes us stressed.
There are few things that make us feel this much fear, since we have not been prey for animals for a long time.
What happens to us that makes us change when we feel this fear? In 2010 Dean Mobbs, a neuroscientist at the Medical Research Council in Cambridge England wondered if humans had "layered" fear responses similar to those that Caroline and Robert Blanchard found in animals at the University of Hawaii, in the 1980's. The layered fear experiments showed varying responses depending on the level of fear in animals.
Striking changes happen in the brains of people that experience fear. The first response we have to fear is a change that could help us find a solution to a problem. Our brain raises our heartbeat and prepares us by shutting down our midbrain, sharpening our brains attention to help it look for threats.During this process, much like an animal that is frozen still, we are only looking outside of ourselves to find what has created this fear. Our sophisticated brain is unable to look inwards to see if we are the cause, all the intellect we have is focused on finding a real or even imagined cause for the fear.
Because of conditioning and the fear it creates, our brains can be prone to misfiring when we are focused outside of ourselves looking for the cause of our fears. This is particularly true about love, I have watched people in love quickly destroy a relationship over some small issue and see them later with someone that was abusive to them without noticing it.
A group of monkeys were conditioned by getting hosed with cold water when even one of them tried to go up a ladder to get bananas. One by one the monkeys conditioned with the hose were removed and new monkeys were added. The group would condition the new monkey by themselves even though they were not getting sprayed with a hose. This went on and one by one more monkeys were added, until there were none of the originally conditioned monkeys left. The remaining monkeys continued to condition new monkeys to not go up a ladder that had a large bunch of fresh bananas waiting for them. They passed down conditioning to not go on a ladder in the same way people that have been conditioned to not have love have been conditioned.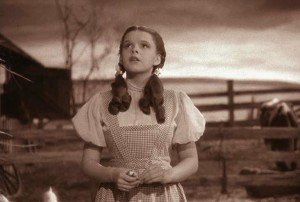 Because our brains are designed to stop introspection and focus on threats when we feel fear, the thoughts we have that are an afterthought to fear could focus on threats that are only imagined and create more fear because we are unable to be self-examining at this time.
The next or second response is as we feel more fear from a real or imagined threat, the forebrains grip on the midbrain loosens. Now the midbrain becomes active, orchestrating quick responses that are fight or flight. This amount of fear shuts down our slower and more deliberative forebrain, where we have been thinking much more than we normally do. This is no time for thinking, we now get in an argument or leave.
If we have had a problem because of fear we felt when we were in love and we either fought with someone or ran, that is normally what our brain would do. It is not possible to change the process unless we remove the conditioning.
If words could create conditioning I am sure they could remove conditioning but that is not how we work. Our amygdala and periaqueductal grey parts of our brain are ancient and date back hundreds of millions of years. This system developed to keep us safe. There are ways here at Cerebrology to rewrite all of this conditioning quickly and easily, so now you understand what the cure is.
We are not in real danger feeling vulnerable when we feel love, if we have been conditioned this way, our brain is going to react as if there was a real danger for us. If we are going to change reality, only removing this conditioning can change the automatic reaction and response.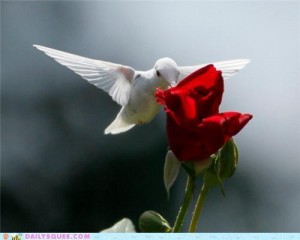 What makes a relationship work? If we were learning to float in a pool, as we relaxed deeply enough to open our lungs and have enough air to float, we would be automatically using a natural process of re-conditioning that takes place all the time as we learn any physical skill.
Because of the conditioning we receive from parents before we are even verbal, which is called affect, many people have conditioned fears about love. The way our brain works is to focus "outside" of us when we initially feel fear, to look for the cause, if the cause is from conditioning we will not be able to recognize that… because our brain will not be able to look inside when it is afraid, it does not work that way it is protecting us. The protection system of the brain is the same as in animals and is in control of directing our thoughts. Even if the fear is imagined we feel it and will find that the person we feel fear around is the cause.When we feel enough fear we stop thinking and either fight or run.
Our feeling about being in love is the same as learning to float in a pool. We rewrite the preparation that creates the fear, so we can breathe deeply, relax and experience the new perceptions we have. The struggle is gone and we can be safe no matter how deep we go in.
There are exercises here at Cerebrology that use natural techniques to give us a great feeling about love in much the same way learning to float gives us a great feeling about the water.
There is no real need to feel fear about love any more than a need to fear being in a pool. I hope you enjoy the exercises we have available to remove the conditioning that creates fear about love permanently. Together we can change reality.