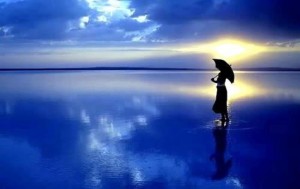 I remember raising my hand in school when the teacher asked the class a question. If the teacher called on me, the feeling of approval I felt answering the question correctly was wonderful.
I remember our class sounding like monkeys at times, "Oooooooh, oooooh I know I know, ooooh, ooooh, I know, I know, me, me!" We were begging for attention and approval from the teacher. The process of conditioning from hours, days and years of seeking admiration from the teacher, left me with a problem that was an obstacle to my success.  I was only able to feel rewarded when I was admired by someone else.
How could I look into my own eyes and be proud of the work I did? How could I be excited, motivated, creative or have the guts to succeed, if I could not give myself rewards?
I remember speaking to a professor that taught art at a very prestigious University. The art professor asked me for help, he said his students were always asking him what he wanted to see them create. The professor told me he wanted to see his students developing the ability to think for themselves and reward themselves for being creative. The professor said, "How will they be successful if they are not able to feel good about their art?"
I told the professor, he needed to help his students rewrite their conditioning; "Modify how your students reward themselves, make it so they are able to look to themselves for admiration, then they will be proud of what they do."
When we are able to look into the mirror, into our own eyes and be proud of what we are doing, we become powerful and self-motivated.
Most companies would like to have their employees think for themselves. The best way to motivate employees to be creative and self-motivated is to enhance their ability to feel pride for what they do.
For those of us that are managers or have our own business, the strength we have to face our challenges, comes from the reward we give ourselves. When we understand how to rewrite the conditioning we have so that we only need to look into our own eyes to feel proud, we are able to give ourselves the feeling of aliveness and feel the security to let our inhibitions go and be more ourselves. When we can give ourselves feelings that make our life meaningful, we can show others how to do this as well.
This year at our "Real Success" workshops, the participants will develop the enhanced ability to look in the mirror and feel pride for who they are and what they do. The sense of pride and the strength that comes from the workshop will be lasting.
During the workshop, we will understand that how we see ourselves is something we can decide. After the workshop, we will always look into our own eyes to have the feeling we have been seeking from others.
We should feel proud of ourselves for everything, even being good to ourselves and allowing some fun sometimes. I hope to see you at the workshops and I hope to see you have the real success you deserve.